---
Learning and education are very important here at Healthy Paws Veterinary Care. We strive to have a state of the art hospital with a staff trained in the latest medical advances. We believe our patients deserve the very best veterinary care.

Our team is comprised of animal lovers. We treat each patient like our own so you know they get plenty of love and attention during their visits.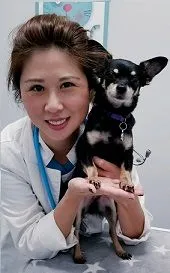 Dr. Suh - Dr. Janet Suh is a 2009 UC Davis graduate with over 20 years of experience in various positions in the veterinary field. Her goal is to give the very best individualized pet care as a general practitioner and as a pet rehabilitation specialist. As a Certified Canine Rehabilitation Professional Certificate (CCRP), specialized certification obtained from the University of Tennessee School of Veterinary Medicine, she is able to provide occupational and pet rehabilitation for her pre-op and post-op patients. The additional training in rehabilitation allows her to provide treatment plans encompassing advanced energy-driven modalities, active modalities, manual therapy, and regenerative medicine.

Dr. Suh has three dogs. Uni a Golden Retriever, Amaebi (or Ebi as the family calls her which means sweet shrimp in Japanese) a Goldendoodle, and a Long Haired Dachshund named Frankie. Dr. Suh loves to travel and explore new experiences, the furthest place she has traveled is Melbourne, Australia. Her joy of adventure knows no bounds, whether it's revisiting her favorite places in Hawaii or planning her trips on her bucket list destinations in Greece and Japan. Her hobbies include gardening, she's a proclaimed "plant mom", having an extensive indoor and tropical plant collection. Dr. Suh is also a mom to her two wonderful kids, Caitlyn and Benjamin, and for family time they enjoy playing board games and bowling!
---
Dr. Panza
Dr. Carmela Panza is a graduate of Cal Poly Pomona, Bachelor's degree in Biology, and Western University College of Health Sciences, Doctorate in Veterinary Medicine. As a seasoned veterinarian her goal is to educate devoted clients to provide the pet's best health options and recommendations. Dr. Panza is a lifelong learner herself and is always pushing herself to master additional skills. Her extensive training includes Traditional Chinese Medicine and Acupuncture, abdominal ultrasound, cardiac echocardiograms and has spent years focused on feline medicine. By integrating all these advanced medical training techniques, she is able to provide a comprehensive, practical and high quality medicine and surgical care for the patients here at Healthy Paws Veterinary Care.
She has once called Pennsylvania, North Carolina and Italy home and now resides in Southern California with her beautiful dog Kaia, a Golden retriever, German shepherd, and Husky mix, her 3 cats: Bugsy Siegal, Lucky Luciano, and Bonnie Parker. She loves great food, shared in company and to spend time listening to all 80's Rock and Metal music but also pop rock. Her current favorite artist is P!nk, particularly the Trustfall album. Her other favorite pastimes are to grow veggies, fruit and plants of any kind. You may also see her riding past you on a motorcycle locally when the weather is nice. Dr. Panza is also creative! She enjoys spending time creating arts and crafts and will dabble in drawing and painting but mostly enjoys landscaping projects around the house.
Several places on her travel wish list include: Australia, Spain, France, Croatia, and Greece.
---
Crystal
- Crystal is a veterinary technician at Healthy Paws Veterinary Care. She currently has a Lionhead/Netherland Dwarf mixed bunny named Smores and an Australian Shepherd named Cosmo. During her free time she likes attending Comic conventions and doing anything outdoors. Her favorite movie of all time is Avengers Infinity War and her favorite color is blue. One thing she has checked off her bucket list is sky diving but would love to go shark cage diving next. She most recently visited Japan during cherry blossom season, and would love to go back and explore more. Her favorite drink is a passion fruit green tea with lychee jelly. When Crystal works out, her favorite artists are Knocked Loose or A Day to Remember.
---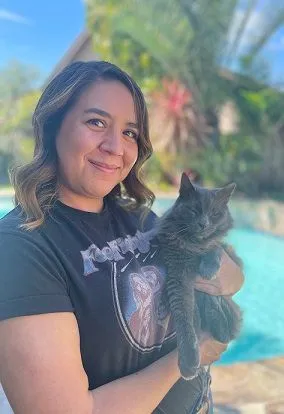 Alyssa - Alyssa is a Veterinary Assistant at Healthy Paws Veterinary Care. When she is not working she enjoys spending her time outdoors, preferably at the beach or hiking. Her favorite color is blue and she loves drinking cold brew coffee. On her days off if she is not enjoying the outdoors, you can find her wherever there is live music. The furthest Alyssa has traveled is Oahu, Hawaii, but dreams of traveling to Portugal during big wave season. She is currently working towards her career in animal science, whether it's veterinary medicine or nutrition. She currently has 1 cat, Blooregard Q. Kazoo a 13 year old domestic longhair that knows how to sit and high-five on comand. Her playlists vary in genre, but you can find her line dancing to country music or rocking out to the Foo Fighters.
---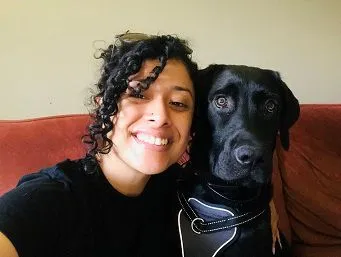 Veronica - Veronica is a Veterinary Assistant at Healthy Paws Veterinary Care. She is currently Registered Veterinary Technician, and is hoping to specialize in rehabilitation and pet physical therapy. She dreams of working with exotics one day, specifically reptiles, aiming to help animals of all shapes and sizes. She currently has a 1 year old Labrador Retriever named Zangief and a Betta fish named Gilberto. When she is not working she enjoys spending time with her dog and boyfriend. Her favorite movie of all time is Catch Me If You Can and her favorite beverage is anything passion fruit. Her favorite colors are red and purple and she loves trying out new restaurants. Her favorite songs to work out to are De Pies a Cabeza by Mana and Auditorium by Mos Def.

---
Josie - Josie is a Registered Veterinary Technician at Healthy Paws Veterinary Care. She currently has a longhaired mini dachshund named Slinky and a black cat named Loki. In her free time she likes to play video games and do digital illustrations. In addition to being an RVT, she also has her BA in Entertainment Art/Fine Art and does freelance work in her free time. Her favorite movie is Disney's 1994 The Lion King, while her go to work out song is Make A Man Out of You from Disney's Mulan. The furthest Josie has traveled is to the Philippines, but has future goals to travel to Norway, Japan, and to see the Northern Lights. Her favorite drink is honey milk tea with boba, and her favorite color is lilac.
---
Megan - Megan is a Veterinary Assistant at Healthy Paws Veterinary Care. She enjoys her free time outdoors on hikes with her German Shepherd Cody, and visiting garden nurseries for new plants and accessories. When relaxing she is usually listening to favorite music artist Joji while enjoying a latte. Her favorite colors are greens and browns, inspired by being outdoors in nature. Megan has been to Hawaii, and her bucket list destinations are Korea and Japan. She seeks thrill and adventure, hoping to cross of skydiving in the near future.

---
Relief Veterinarians
---
Dr. Hopkins
Dr. Ashley Hopkins is a 2015 graduate of the Michigan State University College of Veterinary Medicine. She is a Michigan native and previously practiced veterinary medicine in the Kalamazoo, Michigan area. While in veterinary school she enjoyed a wide range of learning experiences, including time working with farm animals in Northern Michigan, and working with shelter pets at a local humane society. Her undergraduate degree is in English literature, and it was after graduating that she discovered her love of veterinary medicine while working as an assistant at a small animal clinic. Dr. Hopkins' professional interests include dentistry, soft tissue surgery, and ultrasound. She loves to discuss the importance of dental health and preventative dental care with her clients!
Dr. Hopkins has a sixteen-year-old greyhound mix named Yoshimi, with whom she has enjoyed taking many obedience and agility classes. In her spare time, she enjoys cooking, birding, hiking, and going to farmer's markets. Her favorite movie of all time is Inside out and her favorite color is jade. The furthest Dr. Hopkins has traveled to is Italy, but she hopes to visit Korea someday.
---
Dr. Saija
Dr. Neha Saija is a Southern California native who graduated from University of California San Diego with her Bachelors in Science and then went on to get her Doctor of Veterinary Medicine degree from Western University of Sciences in Pomona, CA in 2012. Dr Saija knew from a young age she wanted to go into medicine but it was in high school that she developed her love of animals and decided to become a veterinarian. From the years of 2014-2019 she moved to Northern California but Southern California called her back and she has been back since. Dr Saija has been working as a relief veterinarian since 2020 which she loves! It gives her the flexibility to spend time with her family and also meet new people at the clinics she circulates through. Her passion is helping extend pets' lives through preventive care, annual wellness exams and client education.
Dr. Saija's family consists of a loving husband, a wonderful son, a beautiful daughter and 3 cats- Dexter, Chance and Bellatrix. Life is chaotic at times in the Saija household! When there is free time she likes to go on short getaways, watch movies with her family, enjoy time with friends and just relax! She has quite a list of places to visit still once the kids are a little older. The furthest she has gone is India but still wants to go to Africa, Italy, and some tropical locations!
---
Dr. Johnson
Dr. Nikki Johnson is one of our relief veterinarians here at Healthy Paws. A Florida native, Dr. Johnson always had the ambition to be a veterinarian, even at a young age. She graduated both with her undergrad and her doctorate of veterinary medicine at University of Florida. While living in The Sunshine State, that is where she adopted her 8 year old dog Piccolo from a shelter and discovered her love of rock climbing. From Florida, she moved and practiced veterinary medicine in North Carolina for a short while, before moving to California. She has welcomed California as her new home for the past year, all while being able to explore the wild wonders that our state has to offer. On her days off she enjoys exploring new places for hiking, rock climbing, camping, and for days trips you can find her at Joshua Tree National Park enjoying the beauty of nature. One of her favorite places to go rock climbing is in Las Vegas, while one of her bucket list locations is in Fontainebleau, France.
---
Dr. Park - Info coming soon

---
Specialty Doctors
---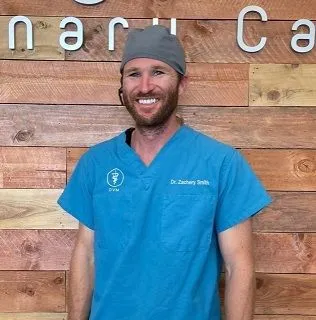 Zachery Smith - Board Certified small animal surgeon
Dr. Zachery Smith is a Diplomate of the American College of Veterinary Surgeons. He specializes in complex orthopedic and soft tissue surgery. He is a traveling orthopedic surgeon who visits Healthy Paws Veterinary Care when an orthopedic case arises requiring surgery. He has also had the privilege of lecturing both domestically and internationally on topics such as elbow replacement biomechanics, novel therapies for canine arthritis including Platelet rich plasma (PRP), stem cell therapy, hyaluronic acid and intraarticular injection treatment. These special interests carry over into his clinical practice with a pursuit for continued advancement in options for both minimally invasive and surgical therapies.

He attended California Polytechnic University in San Luis Obispo where he achieved Summa Cum Laude for his BS in Animal Science. He continued his education at the University of California, Davis where he graduated with Phi Zeta honors and achieved his doctorate in veterinary medicine. After graduating, Zachery completed a small animal internship at Animal Specialty Group (ASG) in Los Angeles before completing his training with a three-year surgical residency with Sage Centers for Veterinary Specialty and Emergency Care. Zachery Smith was the medical director for Veterinary Medical and Surgical Group-OC for two years and continues to serve the clients of VMSG as a staff surgeon.

https://veterinaryorthocalifornia.com/
---
Dr. Short - Veterinary Abdominal Ultrasound Specialist
Dr. Jackie Short is a Diplomate of the American College of Veterinary Critical Care. She grew up in Valencia and then moved to San Francisco, where she achieved her Bachelor's of Biology, concentrated in Zoology. While in San Francisco, she worked as a veterinary technician at a 24-hour emergency animal hospital which inspired her to specialize in emergency medicine. She attended veterinary school at the University of Glasgow, Scotland and stayed on to complete a 1 year rotating internship. Afterwards, Dr. Short moved back to Southern California and entered a critical care residency program at two separate private hospitals where she learned critical care skills, including abdominal ultrasound. Once her residency was completed, she worked at a few specialty hospitals in Southern California and managed a 24-hour emergency clinic where she continued to utilize her ultrasound skills. During the COVID pandemic, Dr. Short started Critical Veterinary Ultrasounds to assist the growing need for advanced care at the local level. She is a mobile veterinary specialist who visits Healthy Paws Veterinary Care to when patient's need abdominal ultrasound. She greatly enjoys assisting Dr. Suh and her veterinary associates with their patients to help determine a diagnosis and the next step in care.
Dr. Short resides in Long Beach with her elderly dog, Thurso, and loud conure bird, Kermit. Dr. Suh and Dr. Hong treat Thurso for his degenerative neuropathy, mild dementia, and arthritis with under water treadmill therapy, cognitive skills and acupuncture, respectively. Thurso greatly enjoys coming to the clinic for his exercise with chicken treats and relaxing acupuncture treatment. When Dr. Short isn't working, she enjoys going to yoga on the bluff with Thurso, strolling along dog beach and surfing (without Thurso).
---
Dr. Jennifer Sheahan - Veterinary Ophthalmologist
Dr. Sheahan is a consulting, board certified veterinary ophthalmologist. She was born and raised in Edmond, Oklahoma. She graduated with honors from the University of California, Irvine, with a major in Biology and Criminology in 2003. She attended Veterinary School at Oklahoma State University graduating in 2011. Following Veterinary School, she completed a one-year rotating small animal medicine and surgery internship at The Ohio State University followed by a three-year residency in comparative ophthalmology at Animal Eye Care. She has a particular interest in ophthalmic pharmacology as well as dry eye disorders and retinal diseases. In her free time, she enjoys photography, running, traveling, and spending time with family.
---
Pearl Hong- Small Animal Acupuncturist
Dr. Pearl Hong is a graduate of the UC Davis School of Veterinary Medicine. She obtained her undergraduate degree from UC Berkeley with a Bachelor of Arts in Architecture & Environmental Design and a minor in Physical Anthropology. A lifelong animal lover, Dr. Hong's professional interest in animals was built on a foundation of wildlife rehabilitation and conservation, which included working with orphaned Vervet monkeys in South Africa, urban wildlife in the SF Bay Area, as well as oiled pelagic birds in Southern California. After graduating veterinary school, Dr. Hong completed an internship in emergency medicine and worked as an ER veterinarian before transitioning to general practice. Later, Dr. Hong began to learn about adjunctive therapies and found that acupuncture used in conjunction with traditional medicine can provide pet parents with more options for treatment. Dr. Hong pursued additional training and received her certificate in Veterinary Medical Acupuncture from CuraCore, a program based on a scientific, evidence-based approach to acupuncture and related modalities. Dr. Hong currently lives in Orange County and loves spending time with her family and her dog, Penny. In her spare time, she enjoys yoga, cooking, gardening, and being a mom.